By ANDREA LANNOM
The Register-Herald
RICHWOOD, W.Va.  — James Flanagan didn't see his future in technology. He hadn't even owned a laptop until recently.
The 39-year-old from Craigsville spent most of his career in manual labor and had most recently worked as a meter reader.
"I roofed houses, worked on cars, worked on the farm. When I grew up, all the jobs I had were in manual labor or maybe semi-skilled labor because that's all there was," Flanagan said. "There was coal mining, logging. You had to be smart to do some of it but most of it is you had to have a strong back. This is completely the opposite."
His path changed after he saw a chain of Facebook posts about a free 12-week software coding bootcamp class in Richwood.
"I was curious," Flanagan said. "I'm always interested in trying new things and this was something available that was free. It was something that sounded too good to be true. And it was really true and really good."
Flanagan took Chuck Toussieng's first bootcamp class in February and became among the first 14 who graduated in April. Toussieng hired Flanagan and two other graduates in May. They work as paid independent consultants for Toussieng, designing and building websites and apps.
"I figured I would learn something new and fun and have a new skill, maybe find another job somewhere," Flanagan said. "I didn't think at that first class in February that I would be a computer programmer."
Now Flanagan is helping Toussieng teach the next batch of potential programmers. The first meeting for the most recent class happened in August with class starting in September. Twenty people from three counties registered for classes.
"The first course, we had people coming from as far away as St. Albans," Toussieng said. "That's a two-hour-plus drive twice a week."
For the second go-round, the farthest students are traveling from is Fayetteville.
Toussieng, 52, moved to Richwood from Los Angeles. He had never been to West Virginia before meeting his now-wife, a Summersville native.
"I met someone who was born in West Virginia, we got married and came back here to visit family," Toussieng said. "I like to do photography as a hobby and as we were driving around the state, I said, 'Wait a minute.' West Virginia has some really bad PR. You know? This place is amazing."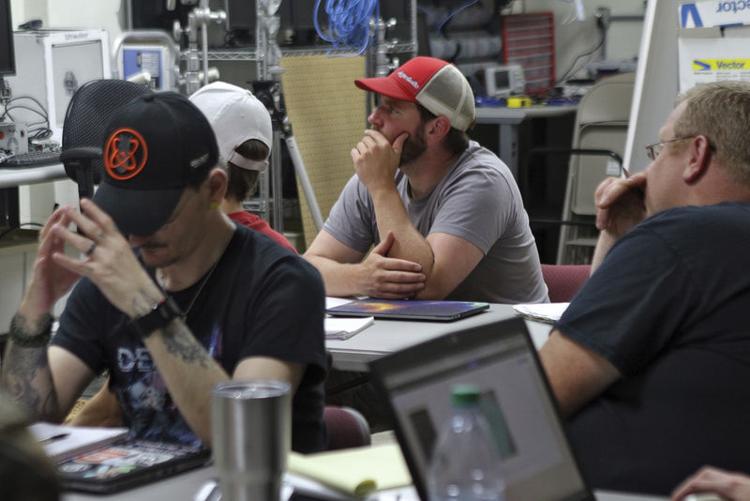 When Toussieng saw empty buildings lining Main Street in Richwood on his drive, he saw opportunity.
"There was something about it I immediately liked," he said. "I don't know if it's the way (Richwood) was laid out or the fact that it's near a national forest or the fact you could buy a house for $25,000 and an office building for the same or less. I was amazed at all the opportunity I saw here.
"As someone from California, if I wanted to try anything from a business standpoint, permitting was prohibitive and cost-prohibitive," Toussieng said. "It costs so much to live there that you don't have extra money to do something, where here, you can.
"There is a lot of opportunity to do things. Getting a permit to build in Richwood rather than Malibu is not even on the same planet."
Toussieng started the classes as a way for him to invest in the community. His goal was to make classes accessible to the public so he decided to make them free.
"Most bootcamps in California anywhere from the same kind of model can be $15,000-$20,000 to take the class," Toussieng said. "How many could I get to sign up for that in Richwood? It would be some number probably close to zero. I'm just taking a gamble that if I can get 20 people living in my town, all writing code and making a good living, then what does that do to my city on an economic base? Richwood could be a completely different city."
Toussieng set up a nonprofit called Richwood Scientific for teaching the classes. He also set up West Virginia Silicon Holler, a for-profit West Virginia company that writes software for other companies.
"We own the building and I write software for a living still," Toussieng said. "I write code to teach classes. All the stuff we do is funded by the software I write during the daytime."
Flanagan said he hopes by helping Toussieng teach classes that he can help people in his home county gain employment.
"This area is just struggling economically," Flanagan said. "We have lost a lot of jobs.
"I want to help people out by giving them another trade other than logging or coal, which are fine — I've worked in both industries. But I want to give another avenue that they can possibly do from home."
H.C. Spencer, a 48-year-old Richwood man, is among the students in Toussieng's newest bootcamp course. Spencer said he moved back to the city after the devastating 2016 floods. He worked in the mining industry, but he was transitioned out of his position last spring. He started helping out volunteering with flood recovery efforts, which turned into a position dealing with recovery.
He heard about the class through Facebook. He said his experience with technology is very limited.
"I enrolled in the spring class last year and I enjoyed it so I wanted more exposure to it and came back for the fall class," Spencer said. "Initially I was just looking to expose myself to something new, but as I continued with this, I gained interest in it so I eventually see it turning into a new career."
Flanagan said from his personal experience, he can see opportunity through these classes. He said many people may not see themselves as software designers. And he didn't at first. However, he said his biggest advice for success in completing the program and jumping into the field is having the drive to do it.
"I never went to college," he said. "I graduated high school but I don't have a college degree. I only used computer software if someone taught me like in retail where you have computer inventory. That's all I ever used. I didn't even own a laptop until about March. If I can do it, anybody can. But you have to have the drive."
Toussieng isn't the first or the only person to do this type of program in the state. He said he has even met with other businesses to figure out how they can work together since they have similar missions.
However, he said the goal is the same — to retrain the workforce.
"West Virginia has a huge problem with the middle part of the demographic moving out," Toussieng said. "You go to WVU, get a tank of gas and leave the state. I want to give people an opportunity to stay in West Virginia.
"My goal is to get as many people as possible working as developers but also staying in Richwood or Nicholas County."
Email: [email protected]; follow on Twitter @AndreaLannom
See more from The Register-Herald